20000+ Successful deliveries
We have put a smile on 40,000+ faces by helping them become parents in the last 34 years.

Successful IUI treatment
Our IVF clinic in Mumbai has a success rate ranging as high as 15% to 25% depending on the indication for IUI.

1500+ of Preimplantation Genetic Testing (PGT) treatment performed & counting......
The success of our pregnancy rates ranges from 38-42% per cycle and 47-51% per couple.

40+ awards won by Jaslok-FertilTree and Dr. Firuza Parikh
We have won multiple accolades, including being Rated the No. 1 IVF centre in Mumbai by trusted publishers like The Times Of India & The Economic Times.
Jaslok-FertilTree International Fertility Centre at Jaslok Hospital, Mumbai, is constantly striving to bring the best medical advancement and services to our patients. All modern facilities and medical equipment are available to provide comprehensive healthcare under one roof. The multi-disciplinary team of our Fertility Experts in Mumbai gives its best to provide treatment at par with global standards.

IVF (In Vitro Fertilization)
In vitro fertilization (IVF) achieves pregnancy by fertilizing the woman's eggs (oocytes) with her partner's sperm outside her body.

Cumulus cells surround the oocyte and secrete important substances for fertilization and implantation.

Intra Cytoplasmic Sperm Injection (ICSI) is a delicate but effective technique, which involves the injection of a single sperm into the egg, using a glass pipette which is many times thinner than human hair.

IMSI (Intra Cytoplasmic Morphologically Selected Sperm Injection)
In this technique, the sperm is magnified 7000 times with the help of a specialized microscope.

Donor Oocytes and Donor Embryos
We have an ongoing program for Oocyte donation for women with premature ovarian failure,

LAH (Laser Assisted Hatching)
Prior to implantation, the embryo has to escape out of its protective shell known as the zona pellucida by a process known as hatching.

Embryo and Oocyte Cryopreservation
Treatment with medicines for ovulation induction at the time of Assisted Reproduction produces many oocytes and embryos. These extra oocytes or embryos can be cryopreserved for future cycles.

Preimplantation Genetic Testing (PGT)
Preimplantation Genetic Diagnosis (PGD) now termed Preimplantation Genetic Testing (PGT) for aneuploidy screening and monogenic disorders helps to select euploid unaffected embryos for implantion.

1. Genetic analysis for fertility issues
2. Prenatal genetic diagnosis
3. Postnatal genetic diagnosis
4. Genetic testing of Products of Conception
5. Diagnosis of Genetic disorders with different detection techniques
6. Hematological disorders (non-malignant)
7. Hematological and other malignancies
8. Periodic fever syndromes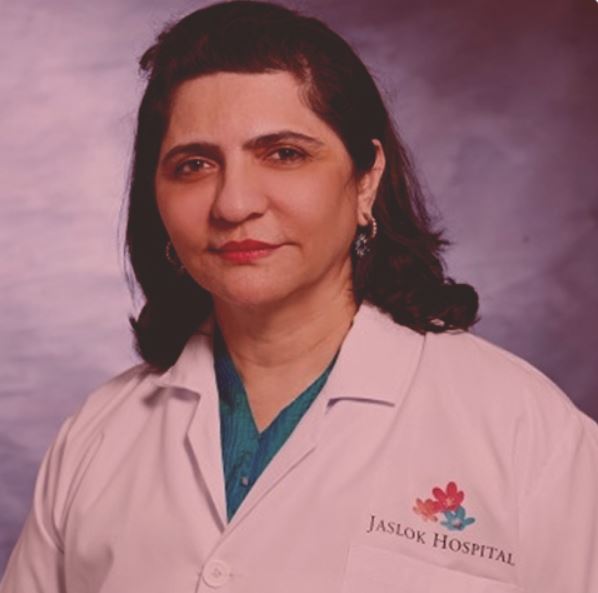 Director, Jaslok-FertilTree International Fertility Centre
Dr. Firuza Parikh is India's leading fertility specialist and Director of Jaslok- FertilTree International Fertility Centre, at Jaslok Hospital, Mumbai, India. She has a distinguished career with several gold medals and first ranks. A recipient of multiple awards, including being selected as one of the 50 most influential Indian women by Femina Magazine, IVF Icon by ET Healthcare Fertility Award (Twice: 2019, 2022) at national level, she has been considered one of the most influential women in India in the field of Science.
Dr. Parikh has several firsts in the field of ART and Genetics.
Click here to view them.
Dr. Firuza Parikh has helped many couples become parents.
Being parents is a miracle to us. Today we have a beautiful 6 year old son who has brought joy laughter and a purpose in our lives. Credit goes to Dr. Firuza Parikh and her team.
We met Dr. Firuza Parikh back in 2012-13 after 2 failed ivf cycles with other doctor and numerous consultations in Delhi. She offered a different line of approach, directed many necessary medical evaluations in detail which no other doctor even cared to mention. The systematic way in which she and her team conducts the overall fertility treatment is to be applauded.
Apart from offering the best facilities and the immense knowledge in the field Dr.firuza Parikh is an optimist. She answered to every question, cleared every doubt and always boosted our morale.
We thank her and her team each day. Wish her more success…..
We are blessed with a baby girl recently and it's all because of Dr Firuza Parikh and their entire team. We conceived in the first cycle and it's all because of mams efforts and approach where every minute detail were very well taken care during the entire process. Also during our pregnancy period there was a very cautious approach and close monitoring and all the pregnancy complications were detected early and handled very well.
The entire journey of IVF and pregnancy was completely stress free thanks to all the Doctors and the staff.
The aura of the entire department is very positive, when I entered for the first time I was very sure that we will have a baby definitely with the treatment in Jaslok and today that dream has come true.
Dr Parikh and her entire staff be they the doctors, nurses or additional support staff at her centre are kind, warm hearted and genuinely concerned for every single patient. They take extreme care of the patients – regardless of the smallest to the largest treatment and go out of the way to ensure the safety and overall well being of the person they are treating. We have been patients for a while and seen how often they have dealt with different problems in the same calm, sensitive manners.

We truly wish the entire team all the very best, and thank them for all they are doing.
Dear Dr Firuza and team,

Thank you so much for the happiness you brought into our life with our son. I have lost all my faith in becoming mother after struggling for 8 years. Coming to your clinic is the best decision we made. Thank you so much for your warmth and care towards us. I still remember the day sitting in front of you crying and asking if I ever get to hold our baby and you assured me YOU WILL. Your knowledge in the Infertility world is extreme and all I can wish and pray for people who are struggling with infertility may find you soon. You are an ANGEL on earth who helps to fulfill the dream. Thank you so much
What are the causes of male infertility?
Male infertility can be caused by a number of factors, including
Low sperm count
Abnormal sperm function 
Chronic conditions like diabetes, obesity, high blood pressure, immunological problems
Environmental factors like exposure to radioactive chemicals and chemotherapy
Genetic conditions
Blockages in the male reproductive system
Luckily, there are many forms of treatment available to help men overcome fertility issues. In vitro fertilization, IVF in Mumbai and/or ICSI (Intracytoplasmic Sperm Injection) are popular options that involve retrieving eggs from the woman and fertilizing them with a single sperm in the laboratory. The resulting embryos are then implanted into the woman's uterus. ICSI is an effective treatment for male infertility and has helped many couples achieve their dream of starting a family.
What are the causes of female infertility?
There are many causes of female infertility. Sometimes it may not be possible to pinpoint the cause. One common cause is damage to the fallopian tubes. This can be due to infection, past surgery, endometriosis and genital tuberculosis. Ovulation disorders are another common cause of infertility. Ovulation occurs when the ovary releases an egg, If it does not occur regularly or at all, it can cause difficulty in getting pregnant. PCOS (polycystic ovary syndrome) is a condition that can interfere with ovulation and fertility. Uterine factors involving the shape of the uterus, fibroids and adenomyosis can also cause female infertility.
Sometimes the eggs may not fertilize or the embryos may fail to implant in the uterus. Age is also a factor, as fertility declines with age. Medical conditions like immunological factors, diabetes, obesity, and high blood pressure may also contribute. If you have been trying unsuccessfully to conceive for a year or more, it is important to consult us to get the right infertitlity treatment in india and rule out any underlying medical conditions.
How Can I find the best IVF centre in Mumbai?
There are a few things to consider when looking for the best IVF centre in Mumbai. First, you would want to make sure that the centre is licensed and accredited by the appropriate governing body. You should also check to see if the doctors at the centre have experience in performing IVF procedures. Don't forget to ask around for referrals. Friends and family members who have had fertility treatment may be able to recommend a top fertility clinic in Mumbai. Most of our patients come from referrals by doctors,  from other patients and their families & word of mouth.
Another important factor to understand is the cost.  At Jaslok-Fertiltree we always discuss the cost on the first visit. Various aspects of your treatment are given to you in a brochure so you have clarity.
Are there any side effects of the infertility medication?
Infertility can be an emotionally and physically draining experience. For many couples, in-vitro fertilization (IVF) offers the best chance of conceiving a child. However, the IVF process is not without some side effects. While most patients feel no adverse effects from the treatment, a few may experience some side effects like bloating, headache, breast tenderness, mood swings,  an upset stomach and constipation.
In some cases, these side effects may be severe enough to require medical intervention. As with any medical procedure, visit our IVF clinic in Mumbai so that we can help you make a sound decision. For many couples, the potential rewards outweigh the small inconveniences. We will guide you to make an appropriate decision.
What is the IVF cost in Mumbai?
The cost of IVF in Mumbai can vary depending on a patient's individual infertility profile. However, the average cost is approximately Rs.1,50,000 to 2,00,000. This cost includes medications, lab tests, ultrasound monitoring, and the Procedure itself. Charges of freezing eggs or embryos, storage charges and Thawing charges are separate. We do not charge separately for Blastocyst Culture and Assisted Hatching.
Some patients may also need additional procedures like Preimplantation Genetic Testing. The cost of this varies from 1,00,000 to Rs. 3,00,000 depending on the genetic issues that are present. PGT for Beta Thalassemia with Haplotyping for a saviour sibling has an additional cost. You can contact us at our top fertility clinic in Mumbai for more information.
Is IVF Treatment painful?
Many couples who are struggling to conceive turn to IVF as a way of being parents. While the IVF process can be difficult emotionally, it is generally not a painful experience. Ovulation induction, which is often necessary for IVF, is typically done with modern pen devices that cause minimal pain. Egg retrieval, which is another key part of the IVF process, is also done under mild general anesthesia, so there is minimal discomfort, if at all. And the final step in the IVF process – embryo transfer – is usually a painless procedure. At our IVF hospital in Mumbai, We may offer you anesthesia for the embryo transfer if required.