Karyotyping
Sperm FISH
Detection Of Y Chromosome Microdeletion By PCR
Sperm DNA Fragmentation Index (DFI) By TUNEL Method
Follicular Fluid FISH
FISH On Blood, Buccal And Urine Cells
MTHFR And Prothrombin Gene Mutations
Karyotyping
Indications for Cytogenetic Analysis:
Couples with repeated spontaneous miscarriages
Couples with primary infertility
Males with oligozoospermia and azoospermia
Males with hypogonadism, breast development and lack of facial hair
Women with primary amenorrhoea, short stature, and streak gonads.
Sample: 2 ml Blood in sodium heparin vaccutainer (Green top tube), transported at room temperature. No fasting is required.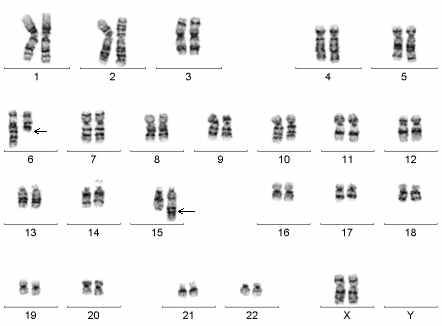 Sperm FISH
Detection Of Y Chromosome Microdeletion By PCR
Sperm DNA Fragmentation Index (DFI) By TUNEL Method
Follicular Fluid FISH
FISH On Blood, Buccal And Urine Cells
MTHFR And Prothrombin Gene Mutations