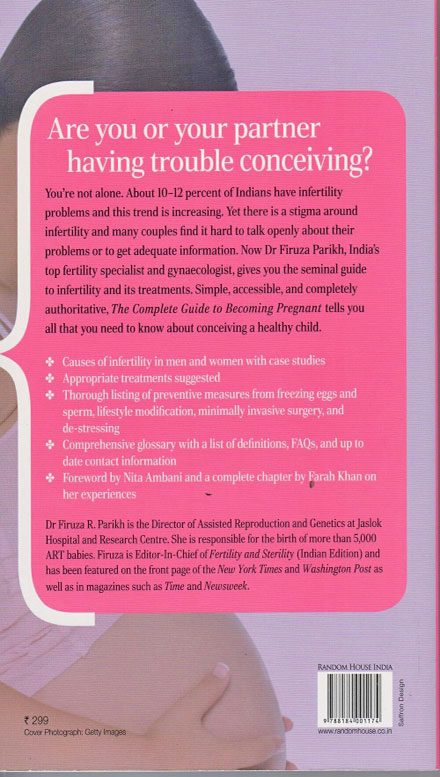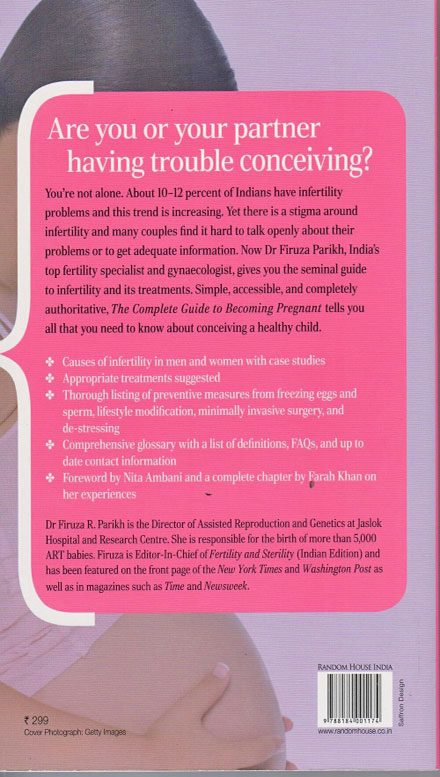 The book – "The Complete Guide to Becoming Pregnant" written by Dr   FIruza R. Parikh was launched by Random house at the Cowasjee Jehangir   Convocation Hall of Mumbai University amid more than 700 invitees. Chief   Guest Mrs Nita Ambani released the book. Among the invitees were Mr   Mukesh Ambani, Mrs Kokilaben Ambani, Mrs. Farah Khan, Mr. Amir Khan and   Mrs. Kiran Rao, Mr. Vidhu Vinod Chopra and Mrs. Anu Chopra, Mrs Shobha   De, colleagues and class mates of Dr. Firuza Parikh and her husband Dr.   Rajesh Parikh, professors, teachers, friends and well wishers and   patients who had come from all over India. Mrs Arti Saran of Verve   Magazine conducted the launch.
The book and Dr Firuza Parikh were   first introduced by Ms Chiki Sarkar, the CEO of Random Publishing   House.The book was then officially lauched by Mrs Nita Ambani. During   the launch Mrs Nita Ambani spoke about Dr Firuza Parikh's untiring work   to help infertile couples. She added that the book has been written in a   very easy format and will be a source of authentic information for   those couples who are trying for a baby.This was followed by 2 book   reading sessions by Bollywood Director/Choreographer Mrs.Farah Khan and   Dr. Firuza Parikh. Mrs Farah Khan who delivered triplets following   treatment with Dr Firuza Parikh had the audience spell-bound as she read   out excerpts from her chapter, "The Director's Cut – Farah Khan's   Story." Dr. FIruza Parikh read out excerpts from the Chapter "The   Squirrel on Marine Drive" which describes how she and her husband went   on to develop the technique of CAT- Cumulus Aided Transfer which helps   to improve the chances of pregnancy during the IVF/ICSI procedures.This   was then followed by an interactive session where internationally   acclaimed Bollywood Actor/Director Mr. Amir Khan moderated the session   with Mrs.Farah Khan and Dr Firuza Parikh. On a lighter note Mr. Amir   Khan asked if becoming pregnant was the prerogative of women only or was   it possible that he too could one day become a mother. He had the   audience completely enthralled with the discussion. This was followed by   an interactive session with the audience. The book sold out its first   10,000 copies pre-launch and is now in its third print run.
The book is available for Rs 299 at leading book stores. It can also be ordered through the internet.
Following are some sites to see the views of these celebrities about the book.
IVF-Genetics, Jaslok Hospital, Mumbai