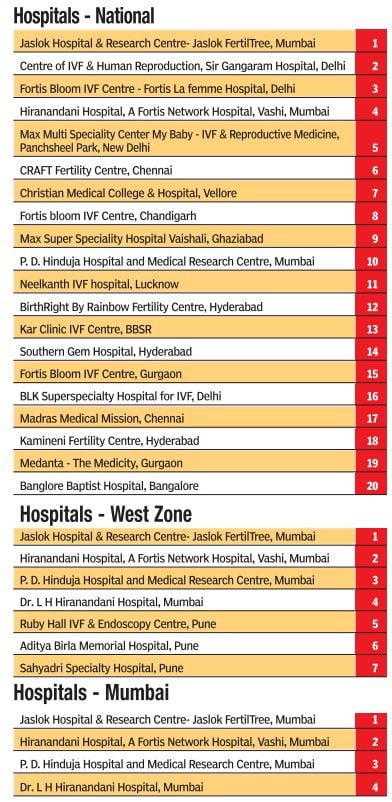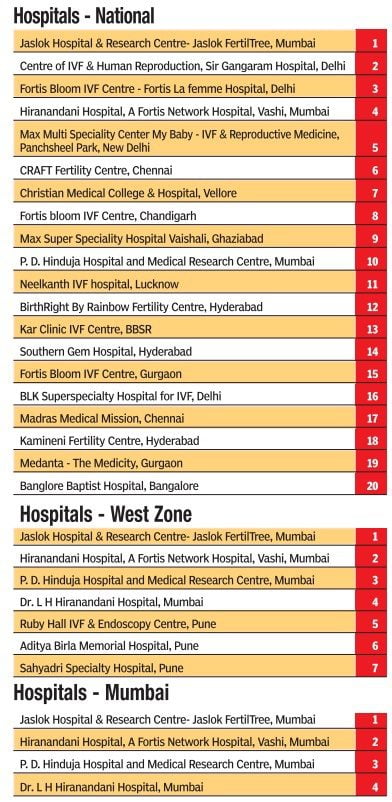 From: All India Fertility & IVF ranking survey 2017, TOI.
Times of India Has carried out a detailed survey of IVF centres based on the facilities available, latest technology used, research work carried out. This survey was carried out at all India level.
Jaslok-FertilTree of Jaslok Hospital, Mumbai was ranked as TOPMOST in this survey in Hospitals as
1st of 20 at National Level
1st of 7 at West Zone Level and
1st of 4 in Mumbai.
Dated 16th December 2016.
Dec 16 2016 : The Times of India (Mumbai) Jaslok Fertil Tree: Where success speaks volumes In conversation with Dr. Firuza R. Parikh, Director of the Department of Assisted Reproduction and Genetics at Jaslok Hospital and Visiting Professor in the Department of Obstetrics and Gynecology at UCLA.
TELL US HOW YOUR JOURNEY WITH JASLOK BEGAN?
I had returned to Mumbai in 1989 from the Yale University Hospital in New Haven, USA after completing a rigorous Fellowship in Reproductive Endocrinology . Rajesh, my husband had already joined Jaslok Hospital as a Neuropsychiatrist after training at the Johns Hopkins Hospital in Baltimore. Dr. R. D. Lele, the then Medical Director, called Rajesh to ask if I would be interested to start an IVF centre at Jaslok Hospital. He asked me, how soon can you start? I said Today! I had only one condition, the Management should allow me to choose my team and the equipment that I wanted and grant me autonomy . They did. When we started 27 years ago, we were among the first few private hospitals in India to set up an IVF centre. From a team of 5 and a space of 500 square feet, we have grown to a team of 45 talented individuals, spread over 5000 square feet dedicated to the cause of the infertile couple. Within a year of commencing, we were getting patients from every state of India and 55 countries. Medical tourism in our country virtually started at our centre in 1989!
WHAT IS IT THAT MAKES YOU STAND OUT IN THIS FIELD?
Our ability to listen to and understand our patients, our knowledge, ability to think out of the box and innovative techniques. We devised Cumulative Aided Transfer (CAT) for the first time in the world and there is a constant urge to improve on our results. When a couple visits me for the first time, I urge them not to feel rushed, as my time is their time. Besides, a good doctor knows when not to offer IVF, so we focus on simple things first, like correcting hormonal imbalances and allowing nature to take over. Anyone who wishes to join our team is asked, Are you willing to work all seven days of the week? Are you willing to skip your afternoon meals? You may miss many celebrations with your family members including Diwali, Christmas, Birthdays and Sundays. Once through with the interview and on becoming a part of the team, no one is inclined to leave.
HOW HAS THE FIELD OF ART EVOLVED?
Work in IVF started in the 1950s.After many failures, 1978 saw the birth of Louis Brown. It was another 15 years before Intracytoplasmic Sperm Injection (ICSI) helped men with severe male factor have their own biological child. So the seeds of success are sown many years before we see the benefits. I am reminded of a story, which I love to tell my team members when they say, that it is `impossible' to get a particular patient pregnant. I tell them of a time when an Australian embryologist was visiting our Centre which was only 2 years old then and yet had the latest version of the micromanipulator system.This man gave me a patronising smile and asked if I really thought that I would be able to succeed. Our team delivered the first ICSI baby in South East Asia in 1994, much before his team. Luv Singh is 22 today and he and his parents have a special place in my heart. My Mantra to my team is, if we do things mechanically, we then exist in mediocrity and miss out on exciting possibilities. One evening, while walking on Marine Drive, with my husband Rajesh, we conceptualized CAT as an experimental method to improve fertility rates. Our research got international recognition as CAT has increased pregnancy rates in IVF.
IS INFERTILITY GENETIC IN NATURE?
As we delve deeper into our genetic code we discover that the very basis of our existence is dependent on 4 main molecules named by the 4 letters of the alphabet A T G and C. Any mismatch of these can result in many genetic defects and can also be lethal. In fact most diseases have a genetic origin. To give you some examples: The condition of polycystic ovaries has a very strong genetic basis, women who suffer early menopause may have defects in their X Chromosome, fibroids and endometriosis again have a strong genetic predilection. Men who have low sperm counts may have tiny parts of their Y Chromosome deleted. A large percent of all miscarriages have a genetic basis! Genetics has always fascinated me. As our centre evolved, we started seeing couples who were afflicted with genetic disorders. We then decided to set up a facility for treating some of these disorders prior to implantation by a technique known as Preimpantation Genetic Diagnosis(PGD). We were the first centre in our country to set up PGD. Our interest in this field resulted in several pregnancies. We have reported on the first few pregnancies in India for a variety of chromosomal conditions which are called Translocations where a part of one chromosome get transposed to a part of another Chromosome. Our Genetics team has helped several couples who are carriers of Thalessemia have non affected babies.
WHAT PROMPTED YOU TO WRITE THE BESTSELLER, THE COMPLETE GUIDE TO BECOMING PREGNANT.' ?
My experience with patients over the years made me realise that patients are often misinformed about infertility and do not understand what to do. Besides there are if you'll pardon the pun many misconceptions. I have seen many patients waste precious years of their reproductive life pursuing ineffective treatments. I have on several occasions seen patients who at the end of a consultation were uncertain of their expectations and the reality of IVF treatment. Through this book I want to let patients know that they should not lose hope and seek correct medical advice. I wrote this book over 9 months and it went through 15 drafts. I have tried to make it simple and illustrate it with many stories and examples. I was pleasantly surprised when it became a national bestseller and is now in its third edition.
WHAT ADVICE DO YOU GIVE COUPLES WHO COME TO SEE YOU FOR THEIR INFERTILITY PROBLEMS?
My advice is that the couple must be united in thought and action. I insist that the husband should support his wife throughout the treatment. They should not rush into any treatment until we understand the cause of their infertility. IVF should work with and not against nature.
WHAT IS YOUR MANTRA FOR LIVING?
Being a Zoroastrian I follow its tenets. Simply put they are Good Thoughts, Good Words and Good Deeds. It is as simple as that!
WHAT FUTURE DO YOU SEE FOR JASLOKFERTILTREE?
Jaslok FertilTree was set up to extend fertility care across the world. We look forward to the future with anticipation and excitement. The idea of our outreach to patients inspires us to make Jaslok FertilTree excel every day day by day!
For more details contact; Email:[email protected]
http:www.jaslokhospital.net landline no. (+91 22) 2352 4141.