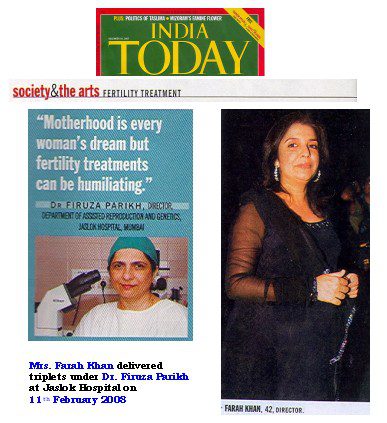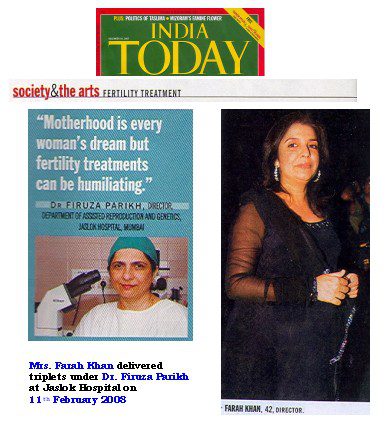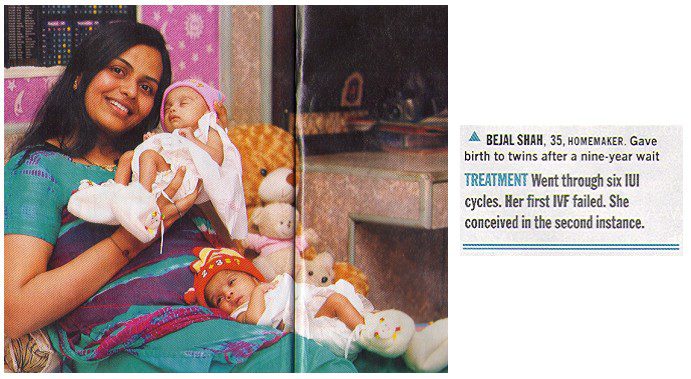 LATE BLOOMERS
Baby hunger is no longer a permanent affliction as urban Indian women, having put off motherhood for the right job or right man, turn to fertility treatments
Doctors may say the biological clock is not a myth – 90 percent of the eggs in a woman degrade at the end of the critical 37th year – but motherhood delayed is no longer motherhood denied. From 42-year-old star director Farah Khan to 35-year-old graphic designer Ritika Lambha, a rising number of women are willing to admit that they took a little help to have their little bundle(s) of joy.
The pursuit of motherhood may not be easy but a mix of optimism and anxiety manages to make these late bloomers a global celebrity stork club, whose most famous members are Emma Thompson, who turned to the treatment to conceive her daughter Gaia, born in 1999 when the Oscar winner was 40, and FRIENDS' star Courtney Cox-Arquette who had her baby at 41 – stick to the course. Nothing deters them from fertility treatment. Not the fact that the treatment has only a 40 to 45 percent chance of success, That there is a high risk of multiple babies (the possibility of twins is almost 25 per cent) And that there can be repeated trauma-ranging from hormonal imbalance to pain from multiple injections.
It's all worth it. Ask the baby bumpers' poster girl, the bouncy Khan, who began her pursuit immediately after marriage. Infertility wasn't an issue for her or her husband. "My cervix was smaller than normal, which made it impossible for me to conceive naturally", says an undaunted Khan. Her first stop was Mumbai baby doctor Firuza Parikh, Director, Department of Assisted Reproduction and Genetics, Jaslok Hospital, who advised her to undergo intra-uterine insemination (IUI), which is done by placing the sperm in the uterus around the time of ovulation. The treatment, advised prior to the invitro fertilization (IVF) treatment, failed in Khan's case. " Its failure was a nasty shock,"
Recalls Khan, blaming it on the stressful hours and commotion of shooting her blockbuster, Om Shanti Om. Her first IVF cycle began soon after the film's completion. I went in for the treatment on June 7, and I was pregnant a month later," she says cheerily, the pain and nausea caused by the injections notwithstanding.
With more women conceiving their first child after 30 – postponing it either because of career pressures or not finding the perfect man_the normal can become traumatic. Late blooming is becoming a nationwide trend. Geeta, consultant, Foetal Medicine at Fernandez Hospital in Hyderabad, says," In the last five years, the number of women over 30 coming to us for their first conception has increased from 248 in 2001 to 641 in 2006." Partly as a consequence of this, the number of IVF treatment cycles has gone up, from 7,273 in 2001 to 19,005 in 2005, according to the National A.R.T.(Artificial Reproduction Technology) Registry of India- in the UK, the corresponding figure is 27,000 IVF cycles every year.
There is a realization now that late motherhood or even infertility is not a stigma. As Imogen Edwards-Jones, who wrote The Stock Club, chronicling her battle to conceive with IVF, said in The Guardian: "Until recently, fertility treatment was barely discussed, like some embarrassing secret that one was incapable of having a baby. Many people on IVF still keep it a secret because they feel they failed, and too be seen to fail, and to do it so obviously, is not part of or culture. Neither is waiting – Today, if you want it, you buy it, but with IVF, you need enormous patience." But increasingly infertility is being seen as "normal". After all, data shows that even if a couple between 20 and 25 has intercourse daily for a month, only 17 per cent, in this category, will conceive in a month, 40 per cent will conceive in three months, 60 per cent in six months and 80 per cent in one year. The fertility declines with each passing year, down to 2 per cent by the age of 45.
The cost of Assisted Reproduction depends upon various factors such as the facilities, location etc. There is also a high risk of multiple children- with four to five embryos implanted during every cycle, the risk of conceiving quadruplets is 0.7 per cent, triplets is 4.5 per cent and twins is 24.4 per cent (NARI,2005). Yet it is less expensive than in the West, where it ranges from $10,000-15,000 (Rs 3.98-5.97 lakh) per cycle, which is what drove 35-year-old Bejal Nirav Shah to India. The Mumbai based homemaker got married at 25 and never thought her wait for a child would last nine years. " I was in New Jersey, USA and thinking about getting the tests done to high medical costs," says Shah. She began her investigation after getting back to India six years ago, "I went through a number of tests and the doctors told me that my infertility was due to unexplained reasons," says Shah, whose IUI treatment failed six times. After an unending cycle of blood tests, Parikh found that Shah's infertility was due to high number of antibodies in ovaries, And Shah did not want to waste more time waiting.
Graphic designer Ritika Lambha, 35, has been married for 11 years and gave birth five months back after a three-year wait. Lambha, who suffered from poycystic ovaries syndrome, thought about starting a family at 32 and was stunned when her doctor gave her a meager 20 per cent chance of conception. She took a chance with Parikh and became pregnant in her second IVF attempt. But with more than three embryos place in the womb, she ended up with four conceptions, leading to another ordeal-the reduction treatment, in which extra embryos are removed. Her twins came after she acquired a vaginal cyst, was hospitalized six times prior to delivery and had gestational diabetes, not to talk of being bedridden till the day of delivery. But for women who are racing against time and nature, it is better to be late and limited than never.
INDIA TODAY
Read Our IVF Blogs