Safest and Best IVF Center in Mumbai with 93% Success Rate
You're trying to have a baby, but it's just not happening. You've been to doctors, you've tried different methods, but nothing seems to be working ?
It's hard not to feel hopeless and alone when all of your friends are posting about their new babies on social media.
Fertiltree is here for you. With our high-quality IVF in mumbai services, we can help you finally have the family you always wanted.
Want More Information IVF ?
Let us Help you
Some News on Fertiltree Best IVF Center in Mumbai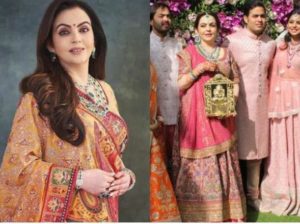 Nita Ambani was quoted as saying,
"A few years after I got married, I was told by the doctors that I would never have children. Even when I was in school, I would write long, copious essays titled, 
'When I'll be a mother…' Here I was at the age of 23 being told that I would never conceive. I was shattered. However, with the help of Dr Firuza Parikh, who is one of my closest friends, I first conceived my twins!"
First in All India "Times-Top IVF & Fertility Centres in India Ranking Survey – 2020" at National Level for the fourth consecutive year.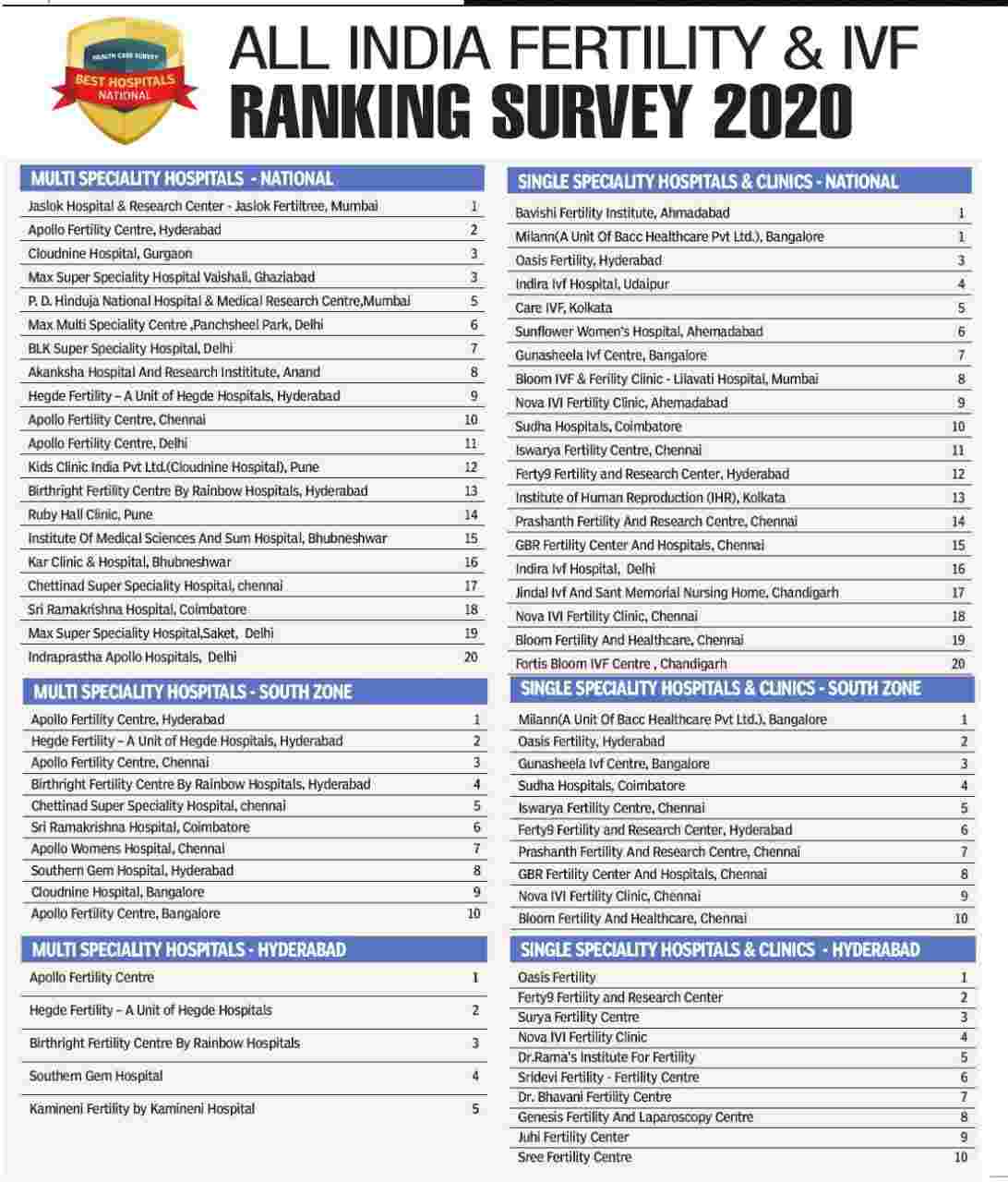 Our Department was awarded 3 ETHealthworld National Fertility Awards 2019 for Best IVF Clinic, Most Integrated IVF Team and Dr. Firuza Parikh was awarded IVF Icon at the National Level
Our IVF center in Mumbai was ranked 1st in Western India and Mumbai in a survey conducted by the i3 Research Consultants of the Times of India
We contacted Dr. Parikh mam and her team in Feb-2013, for IVF - ICSI cycle, as we were unable to have a baby naturally, due to male factor infertility, caused by very low sperm count. Her team understood and took our case as a true professional as one would expect, but what surprised us was their deep passion for the success. Parikh Mam's personal attention, assuring words and her team's truly sincere efforts, made us so positive, while keeping every eventuality in mind. And the result - We were blessed with a Baby Boy on 14th Feb 2014. Baby weighed 2.460 kgs when born at around 37+ weeks. It was through C-Sec as the baby was in breech position. A Big-Big Thanks to Mam and Jaslok IVF team for making our Valantine day so beautiful. You are indeed a team of Angels!! 🙂 🙂
We are a couple residing outside India and were trying to conceive for the past 5 years. We tried the best doctors in Canada and US and thought going to the best doctors should be fine. The doctors felt optimistic but could not figure out the main reason of infertility. We decided to make a trip to Mumbai, India and met 4 different doctors who were very credible with there results and experience. We were thoroughly impressed with Dr Parikh and the process she follows is phenomenal. She is a one man army who has a very efficient team that follows her directions but she takes the time to meet you and answer your questions, get all the required tests done, put enough research into your file, gives honest and true advise and shows the road map.
Of all the IVF clinics I've visited, Dr Parikh's is the one I'd recommend any day. I've had my share of failed cycles with Dr Parikh but what made me stay on was Dr Parikh's words, always positive and if there was any bad news she still knew a way to say it without getting hopes down. In my experience at other clinics, all patients were approached with the same protocol, same medicines, same dosages in spite of different reasons for infertility. All in all a big thumbs up to the overall positive package ie. the IVF clinic at Jaslok!
My Good news,have had a beautiful healthy baby boy on 26th Aug, we call him Amar. He's now two and a half months old and very dearly charming!Thank you so much for making it happen again for us.You are the harbinger of good things in my life and my family joins me in thanking you from the bottom of our hearts!
The journey was very very long but worth it. The entire IVF team of Jaslok is simply great. Our sincere thanks to Dr Parikh, Dr Mehta, Dr Sawkar, Dr Deshmukh, Dr Agarwal, Dr Madhavi, Dr Deepti, Dr Presswalla. Thanks to Anesthesiologist and the Lab team. Sorry for having disturbed Dr Madhavi and Dr Sangeeta on countless occasions and sometime even on non working days, after office hours. You all have been kind enough to answer all the time. You all are blessed with lots of patience. Sorry if I have missed out any name who helped us in conceiving. We had to come to Mumbai because we couldn't find one more Dr Parikh here ! but I request Dr Parikh to train as many young Gynecologists as possible, so that similar expertise is made available at the other corner of the country.
Dr. Firuza will always hold a special place in my heart. We began seeing Dr. Firuza a little over three years ago and from the moment we stepped into her office we felt her warmth, compassion and most importantly something about her made me feel like I had a good chance at becoming a mother. She once told me "you are going to have a baby, no doubt." It were those words that made me feel that no matter how hard the journey was going to be it would all be worth it. Although every visit was mentally and physically tiring, Dr. Firuza was always extremely positive yet realistic. Her proactive approach to everything made me feel like she wasn't just another fertility doctor but she was doing everything she could in the best interest of her patient. Dr. Firuza continued to be our doctor even when we moved to the US. Although we were so faraway we were so happy that all our calls, emails and texts were promptly responded to and we got the feeling she was a good friend attending to all our concerns.
I am a Gynaecologist and have been referring infertile couples needing ART services to Dr. Firuza Parikh for almost 3-4 years now; and it has been such a wonderful association! Dr Parikh and her skilled team of doctors at Jaslok Hospital are a blessing for couples trying to be parents.Dr. Firuza's straightforward,transparent,ethical and empathetic approach towards patients has highly impressed me. One of the patients I had referred, had undergone 3 cycles of IVF with 5 attempts at Embryo Transfer-unfortunately all unsuccessful; it was only Dr. Parikh who did her ERA test and accurately diagnosed her as having unreceptive endometrium at the molecular level.All thanks to Dr. Firuza's relentless efforts, the couple was blessed with a healthy daughter, who turns 2 coming month.
A simple medical term .....infertility, to many unfamiliar minds is just an unfortunate situation. A physical condition which is no major threat to life. Yes, it is not a life threatening disease, except that it slowly but surely seeps away the very essence of your life. The only ray of hope was behind the closed doors of our beloved Dr. Parikh's office. Her face filled with radiance, a kind understanding smile, eyes bursting with compassion , the exact words of kindness and encouragement right from her heart. Besides being one of the kindest human beings we have been fortunate enough to know, Dr. Parikh would offer the soundest advice , but never force upon us any decision. The most practical plan of action would always be laid out, the pros and cons clearly discussed , without getting into the complicated medical terminology, which basically makes any patient nervous. Today , after years of infertility treatment , we are blessed with two beautiful daughters , only because of Dr. Parikh. The mention of her name or even Jaslok hospital , for that matter bring a smile to our faces and a tug at our hearts.
At 40 years of age and having been blessed with a lovely daughter who was at the time 3 years old, we were very keen to provide a sibling for her to make her life complete. We toyed with the idea of adoption but decided against it because with one kid of our own, this could raise a complex situation. we are very thankful to god that we found the conduit to our wishes through Dr. Firuza, and are grateful to everyone at Easy Surrogacy (especially Dr.Mamta and Dr. Sujata) for the warmth and professionalism with which the whole thing was managed. For anyone wishing to go through surrogacy, whatever your reasons, we would recommend Easy Surrogacy.
My husband and I got married 6 years ago At first we were not planning a baby soon. But because of my age our families were keen for us to have children soon. Since we live in Borivali we tried IUI with the local doctor for 4 times. I was getting frustrated so the doctor suggested ICSI We did 2 fresh and 2 frozen cycles but to no avail. My neighbour then suggested us to see Dr Firuza Parikh at Jaslok Hospital. As soon as I met her I knew I had found my guardian angel. Right from her secretary Linnet to Priyanka the team helper to the doctors specially Dr Trupti and Dr Sapna everyone there made me feel special. All my questions were answered with utmost politeness. But the icing on the cake was when I met Dr Firuza. Her simplicity and directness captured my attention. Her gentleness helped me calm down. She asked for some investigations and found that my thyroid gland had hypothyroidism. She put me on thyroid tablets and said that we should try naturally. She said I did not need IUI or IVF. I conceived in the third month of trying. Now I am 6 months pregnant. Thank you my guardian angel Dr Firuza. May your magical hands bring happiness to many thousands of couples. Love you Dr Firuza
We have been struggling to conceive for few years now and have visited several renowned infertility specialists (it wouldn't be wise to name them) till we consulted Dr.Firuza Parikh. She has been instrumental in not only identifying the issue head on but also advised us on making some lifestyle changes. In the first attempt we were advised to go in for iui as my wife didn't produce enough eggs. However, in the 2nd attempt of ivf we have conceived. We highly recommend Dr.Parikh to anyone struggling with infertility and consider her as our guardian angel.
We are blessed with a beautiful baby boy through surrogacy , all thanks to the wonderful panel of doctors under Dr Firuza Parikh and a special thanks to Dr Mamta Kaatakdhond (Pardeshi). We were trying to be parents for a long time and we tried at couple of other reputed doctors in Mumbai but failed to receive a positive results and most importantly the emotional support and customer service which is far more essential during this treatment.When approached Dr Mamta Pardeshi she gave us the hope and a positive attitude , towards becoming parents and most importantly the emotional support which was needed in this journey. I strongly recommend anyone who is struggling to become parents to seek medical treatment and options like surrogacy from Dr Firuza Parikh and Dr Mamta.
Whatever I write will be too little to express my gratitude towards Dr. Firuza parikh, Dr. Sapna, Dr. Sujatha, Dr. Deepti, Dr. Havovi and other members of the team. I never knew what a book may lead me to and help me find my case can have so many issue (bilateral tubal blockage due to TB, PCOS, fibroids, UTI). Here, besides the best treatment I got both guidance and support which was closely watched till the time I delivered. Even though I was not in town during pregnancy all my queries were promptly reverted. They made my dream of conceiving naturally and being a mother true. Sanchita Saboo Mother of 2yr old boy
IVF tends to be a very emotional experience for every couple. At the same time its a ray of hope.If we were to capture our journey in a nutshell we would probably call it "Safe in the hands of Grace". From the beginning when we approached Dr.Firuza Parikh and her team,we experienced inner peace although there was a constant mask of anxiety that the result should be positive. However ,after each visit we were always left with a feeling of deep comfort due to her entire teams personalised approach and guidance provided to us through the procedure. We were extremely gratified to see their attention for details and due deligence being accorded to every aspect of our medical history ,which formed a basis to taking critical decisions towards the treatment plan. Our sincere thanks to Dr.Chitra and Dr. Trupti who were always there to guide us though this experience.Meeting Dr.Firuza Parikh has been the start of a new innings for us in life and we are looking forward to all that this new chapter has to offer!
Hi Firuja Madam, I would like to thank you very much for giving us opportunity to talk to you on our problem (Robertsonian Translocation) and you gave us hope on our feature. I recommend people having the same problem to visit jaslok to get more right information Thanks once again. Naresh & Ramya
I'm so grateful to have met and to be treated by Dr Parikh and her team. Since we found out about our rather complicated infertility issues, we've seen a number of doctors in India and overseas. Since our first meeting with Dr Parikh, we've had no doubt that if we're ever going to have children successfully, it would be through her practice and team. Dr Parikh and the doctors at IVF are there 24X7 and will do everything that they possibly can to help their patients succeed. You are treated as a person with feelings (I've been to other clinics where I feel like another statistic) and you feel thar they've taken full responsibility of your treatment and care. I would highly recommend Dr Parikh and her team to anyone who's having infertility issues. If anyone can make baby dust happen for you, it is Dr Parikh!
I can say with conviction that Dr Firuza is one the top doctor of India. We have recommended several friends who were unsuccessful to get any results after doing several cycles with other doctor's in india till they met Dr. Parikh. She definitely has the magic touch and gift of God to help thousands of women become mothers. Her practice is quite unique and unorthodox vis a vis other doctors in this field. She is also one of the most humble and finest human being I have had the fortune to meet. I highly recommend her. Kalpesh
We had lost our 15 and half year old son and were desparately trying to have a baby.Our doctor in our city suggested that we should go to Dr.Firuza Parikh.We went to her with least hope but were treated by her from day one with utmost gentleness and positivity.Each time anything failed she along with her team was as distressed as we felt.We finally went in for a baby through surrogacy owing to our advanced age and with the highest care and personal attention given by Dr.Firuza and her ever smiling and ever encouraging team of Doctors we were blessed with a baby boy.It was Dr.Firuza who kept us hopeful and gave us the courage to patiently go through all cycles of treatment every time we lost hope.We are deeply grateful for the care,gentleness,kindness and most of all her professional yet positive approach in keeping up our hope and thereby god's grace and Dr.Firuza's efforts gave us our precious son who is hale and hearty and 1 year old now.
I salute Dr. Firuza for her expertise knowledge and especially her style of keeping her patients into most comfort zone. She and her team is always cordial......The Ranna (goddess to be worshiped for child) on the earth.
Dr Firuza Parikh and her team are a blessingfor anyone trying to have a baby and especially people who have lost hope! I went to her when I had given up all hope of being a mother ever. She dint only give me hope but her entire team took us on as thier own and hand held us through the process giving us the positivity we needed. With Dr. Parikh you become family and it's not only an ivf process but alsoa healing process. Dr. Parikh was our last hope and thanks to her we now have 2 beautiful children (both on the first go FYI 🙂 ). I have also sent so many people to her till date and have to thank her becuase they are all parents today thanks to her and her brilliant team.
Dr Firuza Parikh the only coach to us she has the ability to change life of people suffering from kidless.
She and her team of doctors treat each and every patient with thorough care and dedication. I was able to conceive in very first attempt in her clinic.
Dr. Parikh is the only doctor that I can trust for IVF. After struggling for 7 years with infertility issues we conceived after she prescribed a 1 Rupee pill to correct my thyroid problem. She told me I will get pregnant naturally if my thyroid improved. After 2 months of taking the medicine regularly I am pregnant. Dr. Parikh you are wise kind and care for your patients. Wish there were more caring people like you. You make the world a better place.
Dr.Parikh is an excellent fertility treatment expert. She spends time with patients, goes through their case files,listens to their concerns and provides best treatment . Our experience with Dr. Parikh and her excellent team of doctors is great. They are highly efficient,dedicated, professional doctors who are v humble, polite, positive, supportive, empathetic and transparent in their approach providing clear instructions . They take care of overall health both physical and emotional stress which is imp for treatment to work. The same positive and supportive environment is seen in the whole department among receptionists, sisters, lab staff etc who make the centre comfortable place for the patient. We are very thankful to Dr. Parikh and whole department for their support. Would highly recommend Dr. Parikh for any fertility treatment.
Dr. Parikh and her staff are AMAZING! They are the best in the field and everyone is so nice and easy to work with. We were able to get pregnant with our twins on our first round!! We will be forever grateful to Dr. Parikh and her team for helping us grow our family.
We got married 17 years ago. In spite of visiting many top doctors since our young days we did not get success. Finally my neighbour told us about his first cousin who had conceived in first shot with Dr. Firuza . When we met her we were overwhelmed by her kindness and calm personality. She listened to us carefully and gave right diagnosis. Today we are proud parents. If there is a supreme mother we see her in Dr Parikh. Namaste and God bless you dear doctor
Dr. Firuza and her team is very good and expert in dealing with problems related to infertility. She is very patient and understands the patient individually case wise. I want to thank Dr Firuza, Dr Madhavi and her entire team. Under her treatment my wife conceived after 5 years of marriage. We recommend to all those having problem in infertility and they must visit her. All the best.
Dr. Parikh is an excellent fertility treatment expert. She spends time with patients, goes through their case files, listens to their concerns and provides best treatment. Our experience with Dr. Parikh and her excellent team of doctors is great. They are highly efficient, dedicated, professional doctors who are v humble, polite, positive, supportive, empathetic and transparent in their approach providing clear instructions .They take care of overall health both physical and emotional stress which is imp for treatment to work. The same positive and supportive environment is seen in the whole department among receptionists, sisters, lab staff etc who make the centre comfortable place for the patient. We are very thankful to Dr. Parikh and whole department for their support. Would highly recommend Dr. Parikh for any fertility treatment.
There is always doctors around the world who are Great, but with doctora Firuza Parikh it was a great and very successful doctora with very helpful on everything that requires the patience to do. It's really a pleasure for me to recommend such a successful doctora that can lead you step-by-step to understand what is your goal on any type off recommendations medicines surgery IVF etc . I highly recommend her for any partners who are facing a problem On either men or women issue to hold partners' hand and lead them to what they are looking for it is very nice to have this experience with someone who is understanding what they are doing exactly. Wish everyone the best and good luck with the safe experience .
After trying IVF multiple times, I am lucky to come to Jaslok Hospital. In my initial consultation itself I felt comfortable with Doctors and I knew I am at right place. Now I am 4 months pregnant. Thank you Dr. Firuza Parikh
I had been to doctors in delhi,pune,bangalore and some famous celebrity docs in mumbai. But Dr.Parikh was most approachable ,also she was the only doc who first diagnosed the root cause and than put me on fertility treatment. Before going to Dr.Parikh i already had 4 IVF's and n numbers of IUI ,the other doctors never cared to find out the problem. With multiple treatments and strong medication and all the emotional trauma after suffering for 6 years i finally conceived in 1st go with Dr.Parikh. With gods grace and Dr.Parikh's dedication im blessed with a lovely son and im expecting my second baby under Dr.Parikh;s guidance. Thanks Dr. for helping us to complete our family and making my life beautiful. We cant thank you enough.
Dr.Firuza mam is very nice person .She is like God Mother to me. She has changed our life by blessing us with positive effect and her love. I respect her and believe her .she is very experienced and very energetic person . She has given me results in first attempt . Hospital staff like Dr.Sangita,Dr.Madhavi, Dr.Sujata,Dr.Sapna, Dr.Trupti, Dr.Presswala and Dr.Mamata all are very good and cooperative. Every one guided me properly. Other staff members like Mr.Arvind, Mrs.linette, Mrs.Pooja, Priti sister and Siddhi.are very cooprative throughout the treatment. Once Again me and my husband Both r very thankful to Dr.Firuza mam for blessing us with our dream. Keep ur blessing and love with us so that we will get our babies healthy .
Dr. Firuza Parikh , the name and her work is next to the angels of god. She is eminent ,experienced and has a great sense of responsibility towards her every patient. We have personally seen many doctors a good ones but they lack those qualities. She has a great knowledge and perception about her work, she is always ready to go beyond the conventional barriers of text books and try new techniques based on her knowledge , Experience and gut feelings. In our case it was a success , We witnessed this during the course of time. She never hurries her works and always take precautionary measures to achieve full proof success. We don't have enough word to thank for her kindness and generosity. Behind any successful organization there is always a huge team effort and interdependence, we saw the great faith and positivity in the entire staff of IVF department which gave the positive energy environment to the patients. The staff is humble , respectful and cooperative. We must say the staff is always eager to learn patients problems and suggest a suitable solutions. No wonder every case here achieves success. We remain thanks for ever . Regards
We have an excellent experience with Dr. Parikh and her team. We had married about four years ago and had been planning a baby since after marriage. Before meeting Dr. Parikh we had already consulted few of the gynecologist or fertility specialists however our wish has been fulfilled with Dr. Parikh and her team. Whole team are very supportive, caring and positive attitude. They will never make you disappointed. They will only recommend the things which is necessary to get the treatment done. I can say that she is best in her field I will highly recommend Dr. Parikh to the couple who is suffering from any kind of infertility Thank you so much Dr. Parikh and your excellent team.
Dr Parikh is an vry intelligent and excellent fertility expert . She and her complete team is an efficient dedicated and professional doctors They spend time with the patients and treat them as der family members. Very polite and humble people , positive , supportive and gives transparent instructions. And always clear your doubts in ur mind. They answer all your questions with correct and logical answers . They give us physical and emotional both support .Always available on calls and emails .No unwanted reports and medicines .The environment also gives a home feeling all the team members even the lab people receptionist sisters all r vry kind people . We r very thankful to dr Parikh and her whole team .
When one door closes the next opens I had 4 miscarriages. We had decided to give up. All it took to understand our problem was 2 meetings with Dr Firuza Parikh. She gently and in a calm voice told us the problem. Many doctors had asked us to consider IVF She said in our case IVF was not the solution. We followed her blindly. She asked me to do thrombophilia tests put me on an injection called cleanse and monitored my cycle. I am now 3 months pregnant! I heard my baby's heart beat 1 week ago. Even the team members are so intelligent and kind Thank you Dr Sapna Dr Havovi Dr Chitra and Dr Madhavi. They have answered my silly questions and held my hand every time I was scared.
My experience with Dr. Parikh and her excellent team of doctors has been outstanding. Her brilliance, expertise, dedication, humility, experience and empathy is evident at each interaction her patients have with her. At my very first consultation she diagnosed my problem, politely shared her honest opinion and gave me the treatment plan immediately. All the doctors in the team here are experts in the field, well organised, understanding and provide the best patient care. They provide efficient, clear and concise treatment/ instructions. The best possible treatment is provided to each patient and Dr. Parikh works tirelessly to ensure we overcome our fertility issues at the earliest and conceive. I highly recommend consulting Dr. Parikh for any fertility issue. It's the best decision I made and certain that she's the best doctor for couples who need help to start a family.
Dr. Firoz parikh is a magician...we had lost all hope aftr ectopic pregnancy of my wife after which she could not conceive till 9 years ... When madamme took the case we had lost all hopes and had consulted almost all top gynecggyneco of India and world. Madamme did treatment for 7 months and we were blessed with twins and today again we are blessed with a Baby Boy. Long live Dr Firoz madamme and her team.. Thoroughly professionals 100% dedicated. Best gynec team in the world.. Special thnx to Dr Anita Madamme and Dr Fazal Nabi sir also God bless them all Long live...
We have no words to thank Dr. Firuza Parikh and her team. From the very first day when our treatment began Dr. Trupti and Dr. Sujata guided us. We made some mistakes in our dose of medicines but they did not scold us but explained everything again patiently. Dr. Sangeeta would answer our silliest questions. Dr. Madhavi patiently took all our phone calls even in late evening. Dr. Sapna and Dr. Anahita guided us through our difficult pregnancy. Dr. Chitra and Dr. Mamta were always there to cheer us up with their wonderful smile. Thank you all staff of Dr. Firuza Parikh's team.
Dr. Firuza Parikh is the best when rated in terms of clinical competence. She has an amazing team of doctors who are very supportive and helpful. A feeling of being in best hands automatically came in me when I took the first step inside her chamber. She listened to me very calmly and made me feel comfortable and stress free with her politeness and positive attitude. Dr. Firuza Parikh provides you with the best solution to your problem. My Ivf was successful in the very first attempt. Thanks a ton Dr. Firuza Parikh for my little bundle of joy. Concluding the text, I would like to say that Dr. Firuza Parikh is an example of clinical competence and humanity clubbed to the highest degree.
Hi ladies I am under treatment with Dr. Firuza Parikh and I must say it is the best infertility treatment centers I have ever been to, and I can say it with confidence as I have been treated at other centers from past four years. She has good channel of doctors & other staff who handle each patient in well-organized way, from my personal experience with other centers, I found her not only knowledgeable & experienced as a doctor but also she is blessed with dedication toward work & passionate for the best positive result for her patients. All her decisions during my treatment were based on best result oriented rather than being commercialized like other centers. I would highly recommend her for infertility treatment. All the best Wajida
I would like to thank Dr Parikh, Dr Pandole, Dr Agrawal and each member of their team for making this new phase of our lives possible. There was a time when all hope was lost, when we were told that the possibility of us having our own children was close to impossible due to some medical reasons. At this juncture, Dr Parikh approached the issue very positively. Her expertise is commendable. She didn't hesitate to put the facts across that even the possibility of success of an ICSI was on the lower side. The support and empathy from her entire team towards an initial failure helped us stay motivated and come the entire way without quitting midway out of stress and frustration. Ma'am's timely decision to carry out Preimplantation genetic testing of the embryos bore fruit. Cumulus aided transfer, a technique devised by Ma'am herself contributed to increasing the success rate. Her timely intervention made the impossible possible! We now have two beautiful princesses of our own. Dr Parikh was the Angel who brought light into our lives. We shall be ever indebted to her and her wonderful team.
After almost a decade of marriage I have conceived, all thanks to Dr. Parikh and her wonderful team of doctors at Jaslok. Dr. Parikh is phenomenal in her work and knows instinctively what works best for each patient. Although she sees hundreds of patients each day, she truly listens to you with compassion, avoids recommending any unnecessary tests and suggests the best course of action for you. Her team of expert doctors is outstanding and they take all the important decisions related to the patient only after consultation with Dr. Parikh, which is very reassuring. I have personally seen many couples take home babies after treatment from Jaslok and for this reason; I highly recommend it as the first choice for all the couples suffering from infertility.
Dr. Firuza Parikh who did IVF treatment on my wife. Today my wife has completed 34 weeks of her pregnancy. Dr. Firuza Parikh is very intelligent and sweet person. When we first time meet to her And discuss about our problems. Dr. gave solutions for all our problems which makes us happy and comfortable for the treatment.. Dr. Parikh did excellent treatment on my wife. Dr.Firuza Parikh and her team is very supportive. We are thankful to Dr. Firuza and her team because of them my dream is going to complete very soon.
My wife and I got married 8 years before and since then we already consulted with 5 Gynecologist with different types of treatment/ diagnosis. Since no positive results were come, we got frustrated. We had lost hope as we were very keen for child. Then a local doctor suggested us to meet Dr. Parikh at Jaslok Hospital. Now we are very confident that taking an appointment and meeting Dr. Parikh madam is the best decision of our life. She asked for some investigation and found that my wife have Hypothyroidism. She strictly have denied to conduct the cycle until my wife's ATG & AMA report becomes normal. She is very much firm on her decision and this makes her different from all other doctor. Now we are very positive as all our worries are taken care of. In the first appointment, Dr. Firuza madam gifted us her book, "The complete Guide to Becoming Pregnant". The book is a complete guidance. All staffs there right from her secretary to the doctors are very supportive. All our questions are being answered with utmost politeness. Dr. Firuza Parikh is one of the top doctor of India. She is the incarnation of God to help thousands of women become mothers. Dr. Firuza madam financially assists to those patients, whose financial status is low. I highly recommend her as the first choice for all the couples suffering from infertility. Thank you so much for everything madam.
Dr.Parikh is the best doctor & the most loving soul, with loads of positivity. She has a very important place in our life , as she has helped us be parent to the sweetest kids . Her staff is very supportive & nice. Would recommended her to all the couples who wish to be parents.
Dr. Firuza and team are truly the most professional, hard-working individuals I have ever met. Having come from the US, I had understandable hesitancies which were immediately dispelled in speaking with Dr. Firuza and her team. Despite handling hundreds of patients, they knew me and my situation and treated me as if I was their sole patient. Their positivity gave me the confidence and hope to believe that all will work out and it did. They gave us a gift to which we are forever grateful. Dr. Firuza and her team are doing an incredible job and their work deserves nothing but praise and respect. My only hope is that their work continues to receive the support from the hospital and community that it so rightfully deserves.
Dr. Firuza Parikh is not only an expert in her field but also a great human being. Everytime I met and talked to her, my confidence got improved and my attitude became very much positive. Dr. Sapna is having almost all the qualities which makes her a great doctor, friend, human being and a great morale booster. Dr. Madhavi is a true professional in her field and very helpful, prompt and always there when you need. I want to thank the entire team comprising all the doctors, sisters, support staff etc. who is motivated to achieve the desired result. Thanks to the excellent team. Thanks a lot to each one of you.
Dr. Firuza Parikh is the best doctor for ivf.we underwent their treatment in Dec 2014. Dr. Parikh guided us very clearly and precisely, but unfortunately the cycle did not work.we were disappointed but Dr. Parikh called us personally and empathized withus.she gave us hope to keep trying.we did another embryo transfer and this time we were lucky and got pregnant. And we are now proud parents of very handsome ( har maa ko apna bachcha bahut hi handsome lagta hai😊)& healthy boy. From the beginning dr. Parikh and her team gives proper instruction and clearly explains purpose of each procedure or medicine.They are very prompt in replying all messages even at mid night. Now I would like to say ma'am you are a god gift to help childless couples like us.finallay my advice to other couples is don't give up hope, your day will definitely come it just a matter of time. Thanks & Regards Sunita & Amit Rai
How much ever good can be said of and thanks can be given to Dr Firuza Parikh and her team of doctors at Jaslok is less! From the very first meeting, Dr. Parikh struck us as a warm and genuine person and we instantly knew that we had found a doctor who wanted as much as we did that we have our baby. The more we interacted with her and her team, we realised that they wished the same for each and every patient and this was very evident from the warm & attentive detail as well as the very professional approach exhibited by the team. In our interactions, we have felt that Dr. Parikh provides as much individual attention as possible and her able team ensures that she is updated continuously on all the aspects of the treatment before the next course of action is decided. What really sets Dr. Parilkh apart is her attention to your particular situation and her continuous thinking on what approach or treatment will be best suited for you. Its like the gears keep running quietly in her head to find out what will work best for you and your baby. But what really made a difference to us is not just the professional approach or the constant thought behind it, but the fact that there was always such warmth & positivity in every discussion. IVF is a difficult set of treatments to go through both mentally and physically, and the comfort provided by Dr Parikh and the team went a long way in keeping us positive and supported through the entire journey. We have a lot to thank the great team for, right from Dr Parikh, Dr Sangeeta, Dr Sapna, Dr Sujata, Dr Anahita, Dr Arundhati, Dr Trupti, Dr Madhavi, Dr Mamta to all the other doctors and Linnet as well as rest of the nurses and support staff for the constant support and help. Hope we have not missed anyone - there are so many people to thank! Thank you so much everyone for helping us bring our little one into this world!! We will be eternally grateful to all of you!!
Dr Firuza Parikh has been our saviour, as she has given us the greatest gifts of children (twins) we were yearning for, since a long time. We are deeply indebted to Dr Parikh & her team (Dr Mamta) for helping us become proud parents. After exploring other doctors & hospitals, when we approached Dr Parikh, not only did she give us a patient hearing but suggested what would be the best treatment option. Despite her name, reputation & experience, Dr Parikh comes across as very down-to-earth, warm & caring. I would highly recommend her to any couple seeking help with conceiving.
I conceived after almost a decade of trying with the help of Dr Parikh. We had tried many places in India and Abroad but finally we succeeded after we came to her. She provides world class treatment with latest technology and treatments available in the field. Her team of doctors are excellent and warm. We wish them all the best for their efforts in creating families and bringing happiness to many like us.
Dr Firoza Parikh at Jaslok Hospitak Mumbai is an excellent doctor for childless couples , who have lost hope in their life for baby. She has a very good team of Doctors who guide properly about the cost and the procedure involved in the IVF. Dr Mamta , one of her associate doctor, guided us very well five years back when we came from Jharkhand State. We had lost all our hopes to have a baby after our marriage of 17 years. But with the blessings of God and sincere efforts of Dr Firoza Parikh, we were blessed with a daughter. Entire procedure was very smooth and at a very reasonable cost. We are planning for a second child as well. I sincerely congratulate Dr Firoza Parkh and all her team mates especially Dr.Mamta, who helped us a lot and we are blessed with a sweet baby.
Dr. Firuza and her team is very good and expert in dealing with problems related to infertility. She is very patient and understands the patient individully case wise. I want to thank Dr Firuza, Dr Madhavi and her entire team. Under her treatment my wife conceived after 5 years of marriage. We recommend to all those having problem in infertility and they must visit her. All the best.
Dr Firuza Parikh and team of doctors are one of the best set of doctors I have come across. When I went to them I was scared, full of doubt and confused. However they put me to ease and made me feel special and confident. All the Doctors in her team and amazing and they would treat everyone not as a patient but as a friend.
Dr. Firuza Parikh and her best team of medical staffs really helped alot for our treatment. I have no words to thank the entire team for their fabulous effort. Doctors are always available to attend their patients which makes them so outstanding. Such a lovely journey of treatment we had along with them achieving best success results. Thanks alot.
I say thank you from the bottom of my heart to Dr Firuza Parikh who made me a mother today. My dreams are fulfilled Dr Parikh you are in our daily prayers and will always be the most important person in our lives.
We were trying for parental happiness quite some long time but we couldn't succeeded with couple of incidents, with grace of baba we come to know the reference for Dr. Firoza Parikh and actually we got delighted the way things and advises took place which in turn finally given us the happiness to enjoy. Awesome hospitality by all the fellow doctors. The hospital gives us the right to enjoy additional opinion and advises as regards to our clinical care. My profound and sincere gratitude to Dr. Firoz Parikh and Dr. Mamta, Dr.Madhavi, Dr.Trupti, Dr.Sangeeta, Dr. Sujata, & Attendants and staffs of Jaslok Hospital for their excellent care and services during consulatation and which is turned to be positive. Would recommend to all to get the consultation right away and get the happiness in your lives. Thank you and best regards to everyone.
You are a great doctor ,and we are so glad that you where ease our pain .your reassurance and confidence brought us joy ,peace of mind and no words can simply express our level of jubilation seeing or little baby. Before saying that you are an extraordinary doctor, I want to tell that you and your team at jaslok are mind blowing. Thank you from bottom our heart.
Amazing doctor she is. The first day i met her, she said that once i get good quality eggs, no one can stop you from getting pregnant. Her positive attitude made me positive towards the entire treatment. Despite of 2 failed cycles, my hope was not at all shattered just because firuza maam was confident and her confidence gave me the best gift...my daughter Nandini.
Why we are best IVF Centre in Mumbai?

Advanced Fertility Counseling
We have a dedicated IVF center that offers high-quality IVF services. Managed by experienced IVF doctors, counsellors and medical and paramedical staff committed to promoting healthy living for those seeking IVF treatment. We are conscious of your finances and time and make every effort to plan a suitable and wholesome treatment for you.

20,000+ Babies Delivered
With more than 20000 successful deliveries to date and a proven track record for providing the best possible clinical outcomes for IVF patients, we are confident that our services will provide you with a wonderful experience and a lifetime of happiness. We are known for successfully treating patients who have failed IVF treatment at other centers and also treating couples with medically difficult conditions.

Tailored treatment packages
We will guide you in selecting the most appropriate IVF treatment for you and your situation. However, our team will carefully consider all options for ovarian stimulation, including minimal and mild stimulation treatment and conventional methods, to find the most suitable option based on your individual requirements and budget.

Equitable Pricing System
Fertiletree is committed to bringing happiness and satisfaction while building families. We offer world-class IVF treatment facilities at an affordable cost. Our team will be ready to explain to you all charges upfront so that there is clarity about the treatment.

High success rates
Our High Success Rates with IVF are appreciated by all referring doctors and patients. Most of our patients come to us by word of mouth after hearing of our success stories from multiple patients.
Why do parents choose our clinic?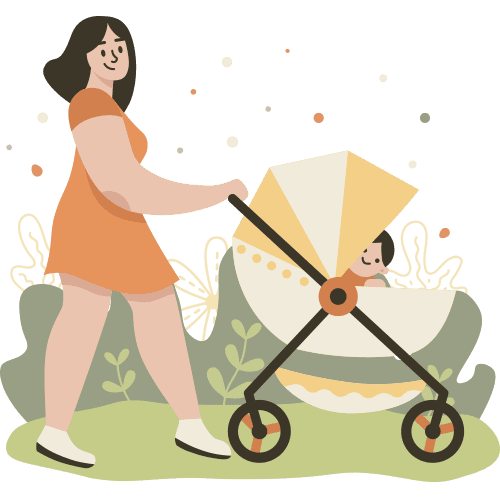 Fertiltree delivers excellent success rates across multiple age groups and for a range of treatment options. We continue to pave the way in Reproductive Medicine with an active research programme that drives innovation and medical excellence.

We help couples have children and we're proud of the 20,000 babies born because of our team's efforts.

Our Department has been nominated as the top IVF Centre in Mumbai & West Zone for the fifth consecutive year in all India survey carried out by Times of India in 2021.

Our centre has received multiple recognitions as the Best IVF Clinic in India, Most Integrated IVF Team and ICON of IVF at the National level by The ET Healthcare National Fertility Awards 2019.

Recently, FertilTree has also tied up with Embryonic, an Israeli based Artificial Intelligence Company to select the best embryo for implantation in order to enhance our pregnancy rates for our IVF mumbai treatments.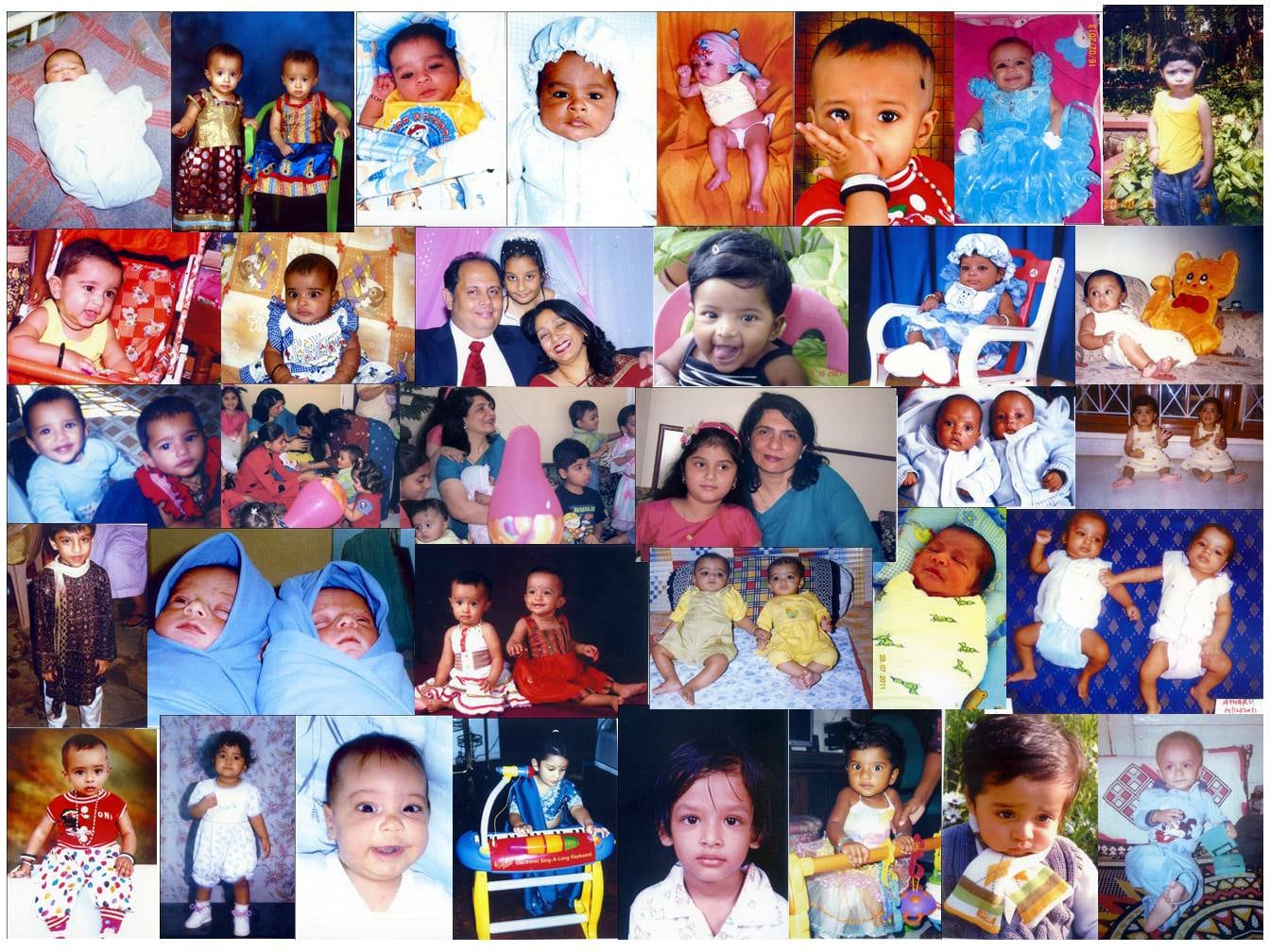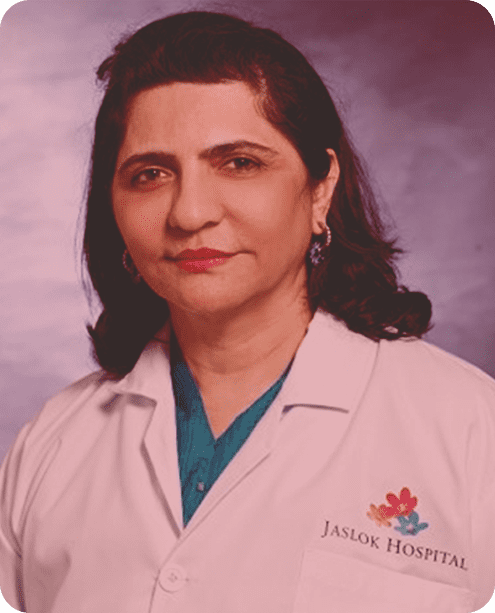 She is the Director of FertilTree-Jaslok International IVF Centre, Jaslok Hospital, Mumbai. She completed her undergraduate and postgraduate medical education at KEM Hospital, the Seth G. S. Medical College and the Nowrosjee Wadia Maternity Hospital in Mumbai with several gold medals and first ranks. She has a distinguished career, being A former Visiting Professor in Obstetrics and Gynaecology at Yale University. A recipient of multiple awards, including being selected as 1 of the 50 most powerful Indian women by Femina Magazine, Times HealthCare Legend Award in 2018, Woman of the Year 2014 by Limca Book of Records, L'Oreal Paris Femina Women Awards 2012 for Science and Innovation, and many more. She has been considered one of the most influential women in India in the field of Science.